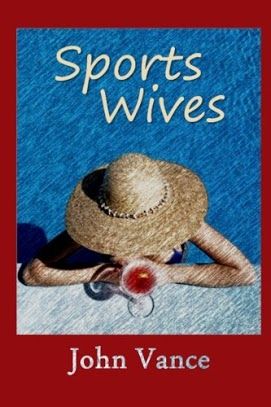 Title: Sports Wives
Author: John Vance
Genre: Women's Fiction, Humor
Publisher: Champlain Avenue Books
Mary Wulf, wife of baseball slugger Gary Wulf, has invited her four dearest friends to her Southern Connecticut home for a fun-filled late August weekend get-together. They're coming from Maryland, Ohio, Colorado, and as near as next door. Sports Wives coming together with their unique personalities and emotional perspectives.
Being together for the very first time, the women reveal far more of themselves during the weekend than they ever expected. Indeed, the humor is continuous—while tenderness, poignancy, and sorority will also pull at your emotions. There is much on multiple levels to draw one into the lives of these women—who are in effect, wedded to sports as well as to their men.
All right, let's take stock. I am thirty-five years old. A reasonable, loving, and notoriously cautious woman. I am married to Gary Wulf, the current right fielder for the New York Mets. I am deeply in love with his agent. I have violated the Seventh Commandment. On several occasions. Other than that, I have no complications in my life.
Mary Wulf stood in her kitchen staring at her reflection in a bottle of tequila, wondering how much of the bottle would be consumed before the evening was out. She couldn't contain her delight at the prospect. The weekend series was about to begin--only minutes away now from the first pitcher . . . of margaritas. Ha, ha.
Look, it's late August, and the Mets are only seven games out of first. They could still win the division; it's not too late. But I can't say the same thing about my marriage, can I? Nor would I want to. At least the Mets have a chance not to finish in the Eastern Division cellar, the way Philadelphia 's playing. Yes, the cellar. If Gary only knew what I have hidden in mine. Figuratively, I mean. The poor Mets. This will be their sixth straight losing season. How many have I had in a row with my husband? About the same? More than that? Up in Boston they were for forever saying that this year could be the year they'd win The Series. The Curse of the Bambino once and for all exorcised. And they finally had their year--twice. Here it's the curse of Mary Wulf. But this also could be the year. My year.
While Mary pondered her personal life in the context of Major League Baseball, she put the CD player in "Random" mode. For once the batting order of her Broadway CD mix would be shaken up, providing Mary some variety and surprise rather than disgorging once again the same tracks in the same familiar pattern—one long ago memorized. "Memory" from Cats was hitting second, instead of eighth as it usually did. Then again, this wasn't the song to come so early in the lineup—it seemed highly out of place in that position. It spoke too deeply to its listener; it was too emotional, too relevant for it simply to waft through a room without adequate preparation, without at least some expectation, without any anticipation from the woman in the house, who played it whenever she attempted to communicate with her soul.
Hearing the opening bars of the song, Mary came quickly into the room from the kitchen, where she had begun filling bowls with high-calorie, indefensible, and long-denied tortilla chips, pouring two kinds of salsa into "authentic" Mexican serving bowls, after having pulled down from the shelves of the liquor cabinet the accompanying tequila and margarita mix. She felt a bit startled moving from the gaiety south of the border to the tragic and poignant setting of Griselda the Glamor Cat among the piles of unwanted junk. Mary disliked sudden shifts of mood, sudden news of any kind, sudden demands on her time and emotions. And now one of her favorite songs was causing her sudden anxiety.
During his career as Professor of English at the University of Georgia, John Vance was the author of six books and numerous articles devoted to literary biography and criticism. He also began indulging his love of theater as actor, director, and playwright, with thirty-five of his plays staged. Now he has turned exclusively to fiction, and is the author of fourteen novels, including the humorous memoir Setting Sail for Golden Harbor and the recently BookBub featured In Mind of the Vampire. He lives in Athens, Georgia with his wife Susan.